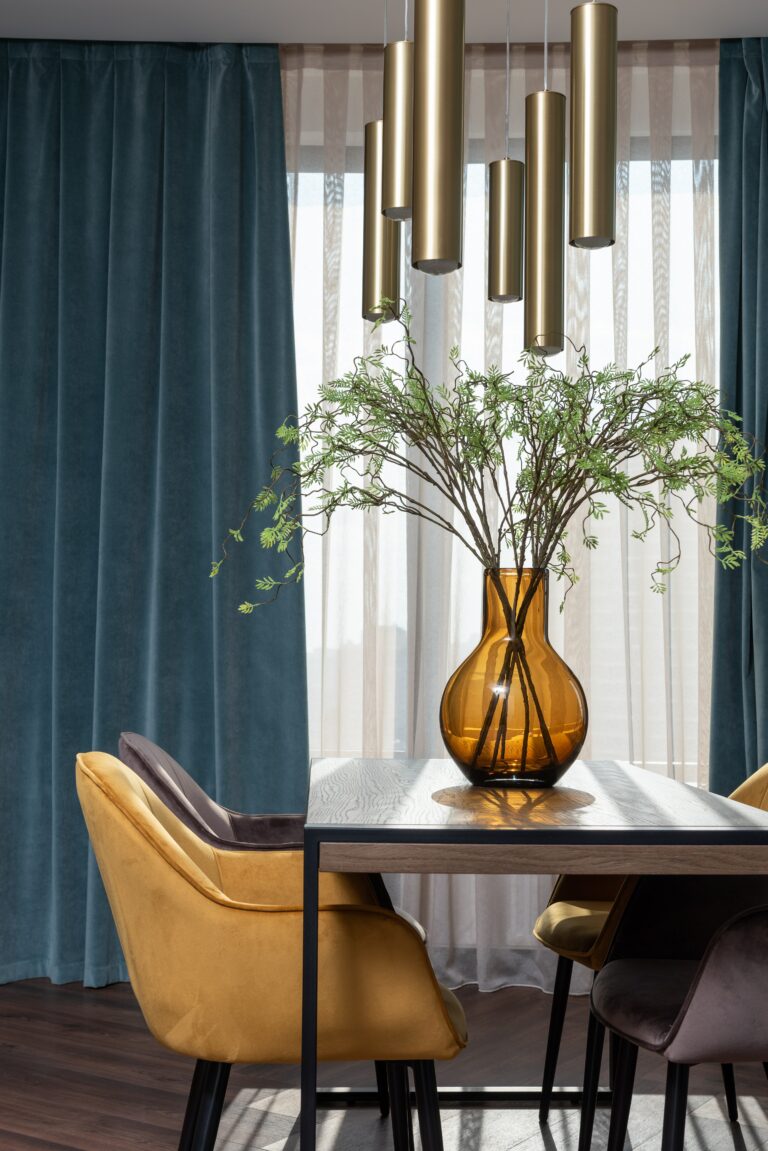 Over the years, the art of interior designing is becoming popular among professionals.
Not only the rooms, but the kitchen of our house also needs embellishment as well.
Today, people are inclining toward installing glass door curtains that would give their kitchens a new look.
These blinds would actually work to enhance the overall design of the kitchen from all aspects.
Your sliding glass doors and windows in the kitchen are incomplete without beautiful curtains or blinds.
The purpose of these blinds is not only to beautify your kitchen but also to stop extra sun rays from coming into the kitchen during a hot summer day.
16 Curtain Ideas for Sliding Glass Door in Kitchen
Let's have a look at some of the amazing and modern design kitchen sliding glass door curtains ideas.
1. Cellular Shades For Sliding Doors
Cellular shades are on the top of the list when it comes to adding creativity to your kitchen's interior.
These are integral to regulating the kitchen's temperature. For the people who love cellular shades, these are available in different variations.
2. Stylish Designed And Slatted Curtains
The Slatted blinds are for giving your kitchen windows a unique appearance.
These look splendid on the plain glass windows and doors that would be basic without such blinds.
Choose the colors and designs of slatted curtains as per your choice.
3. Roller Curtains For Sliding Glass Door In The Kitchen
The next idea to turn your kitchen's interior upside-down is to consider Roller blinds.
These blinds have different properties to show off as well. For instance, these are moisture-proof and can be cleaned on a daily basis.
With soft towels and fabrics, you can keep these blinds tidy also.
4. Roman Curtains With Soft Color Designs
Roman shades are a ravishing combination of durability and design.
These have been famous among the new house owners as well. A perfect choice to go for when you want to renovate your house.
You can replace your Roller blinds with Roman shades and can experience the same quality performance still.
5. Venetian Curtains With Different Colors And Lights
The reason behind Venetian blinds as a great option to look for is that these are multi-faceted.
You get the freedom to pick from plastic to wooden variations, and these come in metallic designs too.
Completely adjustable, these blinds can prove to be highly efficient.
6. Curtains For Bi-Fold Sliding Door In The Kitchen
Such blinds go great with a bi-fold door if you have any.
Such shades appear to be slender so that they can shift themselves to the exact area where they need to be placed.
Their flexible nature is pivotal for the consumer's attraction.
7. Contemporary Design Vertical Curtains For Sliding Door
These are the blinds for small kitchens. Particularly for the doors, these shades give a mild and contemporary vibe.
These are in vertical profile so that you can encounter a new look at your kitchen after the placement.
8.  Thermal Curtains For Controlling The Temperature In The Kitchen
The objective of these shades is to work with the honeycomb mechanism.
These small compartments basically trap the heat for you so that you can warm your kitchen or the room quickly.
These come in different colors as well so that you can match these blinds according to the color theme of your doors and kitchen.
A good choice to think of, especially in the winters.
9.  Long Motorized Curtains For Tall Doors
As the world is rushing toward technology, everything is transforming into "Smart."
There are now companies that are the manufacturers of smart blinds or shades for your home.
You have to connect these blinds with your mobile device. Then you will be able to monitor these blinds with just a few taps on your phone.
Not only improving the quality of life, but these blinds are available with a wide range of textures, colors, and attributes also.
10.  Sheer Curtains For Sliding Doors
If you have doors that have beautiful engravings on them, then hiding them with a blind is not a good idea.
In this case, you require to get your hands on light, transparent and subtle sheer that would be a satisfactory decision.
11.  Bamboo Shades For Doors
You can also go for the Bamboo shades if you did not find your perfect blinds in the above-mentioned options.
These are Eco-friendly and will upgrade your interior simultaneously.
12.  Fabric Salts For Adjusting The Light
Sometimes glare on the windows can be really annoying.
For this reason, to prevent the glare, you would want something that could do the job impressively.
In this case, solid sheers or slats are a reliable option.
13.  Natural Wood Curtains With Modern Design
Shutters are another viable idea that you can consider while renovating your interior design.
These are available in wooden variations that would give a warm tone to your home that it was lacking before.
14.  Classic Door Curtains For Keeping The Draft At Bay
You can also make a good door curtain at home. By sewing a simple curtain, you can conceal all the drafts where the air can rush into your room during winters.
15.  Patterned And Filmed Curtains 
To obscure the view, you need a window film.
By spraying on the window and positioning the window film on the glass, you can obscure the view as much as you want intermittently.
Always choose the design and color of the curtains as per the design of your kitchen.
You can always ask for customized colors as well which will enhance the beauty of your kitchen as a decoration.
16.  Pinch Pleated Curtains For Sliding Doors
The Pinch Pleated drapes are for giving your interior a cozy vibe.
Particularly, when you are working in an augmented space with a big door, then such drapes will help you enhance the interior of your workspace exceptionally.
Choose from a large variety of hues and include them in your design.
All of the curtains for sliding doors are available in market in different designs and colors.
You can ask for customized curtains with different colors and lengths as well.
Let us know which curtain idea you like the most and what's the reason.